---
Bimini-Top LOOK UP with 3 arches and Ø 22 mm stainless steel frame
Due to its high quality and dimensions, this sun protection cover is suitable for all large inflatable boats, sailing boats and motor boats. It is very stable due to its combination of Ø 22 mm stainless steel tubes and stainless steel joints.
This bimini top offers the optimal compromise between shade and air circulation due to the integrated micro-perforated SERGE FERRARI Batyline net. The solar radiation is significantly reduced and stagnant heat is avoided. In addition, the net allows a better view to the outside / above, which is particularly useful on sailing boats.
Frame details
Dismountable structure  (Ø 22 mm) AISI 316 polished Stainless steel tubes.
Fabric details
The high-quality, 100% resin-coated acrylic fabric SUNBRELLA® PLUS (360g/m²) is used for the sunroof. It has an anti-fungal coating, making it mold resistant and easy to maintain. Thanks to the resin-based coating, the canvas is waterproof and UV-resistant. The fabric complies with the ISO 4920 standard and is available in 17 different colours. This solution-dyed acrylic fabric features piqué effects and color references to best coordinate with your boat.
The air-permeable SERGE FERRARI Batyline net is characterized by high durability and high translucency with low weight. It is also mold resistant according to EN ISO 846-A
Joints and screws
AISI 316 stainless steel joints reinforced and stainless steel screws.
Max. speed
The maximum recommended speed when cruising and the bimini is set up is 25 knots.
Dimensions
The bimini top is available in two different heights (C) 95 cm, 115 cm or 140 cm:
 
The height (D) of the folded convertible is 120 cm if your choosen height 95 cm, it is 160 cm with a height of 115 cm and 180 cm with a height of 140 cm. 
The length (B) is 150 cm (with a height of 95 cm) or 200 cm (with a height of 115 cm) and  230 cm (with a height of 140 cm).




When the bmini top is completely folded and Ready to store the dimensions are: width x 40cm (16") x 8cm(3")
Scope of delivery
Zippered storage bag (same colour like the bimini)
1 pair of straps
Please note that the fittings to mount your bimini to your boat are not included. These must be ordered separately.
The scope of delivery only includes the bimini frame fittings (see article picture).
Manufacturer:

Nettuno

Category:
Bimini-Tops
SKU:
46787
Shipping weight‍:
18,00 kg
Item weight‍:

15,00

kg
The starting point
The first measurement to take is the width between the right centre gunwale to the left centre one of the boat or, in case of an inflatable boat, the width between the right centre tubular to the centre left one.
From this size it can be evaluated which model of Bimini Top can be installed.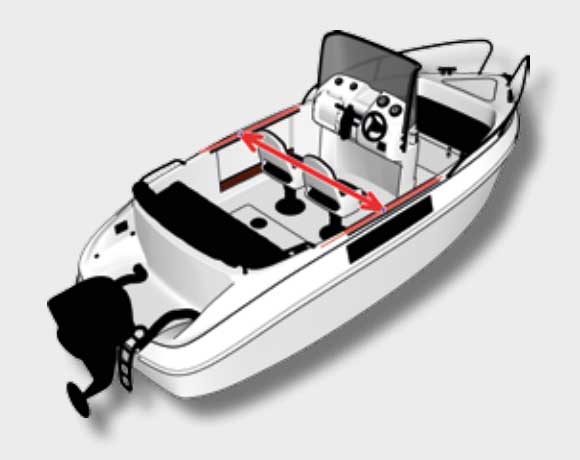 Installation guide for bimini top "LOOK UP"
SUNBRELLA PLUS fabric datasheet
---