---
Bimini-Top with roll bar STRANGE
This single tube roll bar with bimini top combines the advantages of a roll bar with the lightness of a regular bimini top. 
The base and the side plates give strength to the structure and the possibility of applying navigation lights and other useful navigation tools. In addition, the single-tune roll bar makes the Strange less bulky on board and lighter than other Biminis with roll bar, for an overall aesthetic result similar to that of a bimini without a roll bar.
STRANGE also stands out for the practicality of its frame. The folding roll bar allows to quickly push down the entire structure in the bow during high-speed navigation or when not in use.
Moreover, the divisible zippers applied along the arch passage bands allow the canvas to be removed from the structure quickly and without having to disassemble it.
Bimini and roll bar frame details
The roll bar has a very robust frame (Ø 40 mm) made of highly polished stainless steel (AISI 316). The frame of the bimini top itself is made of stainless steel tubes (Ø 22 mm). The bimini has 2 front brackets. The roll bar itself can be folded at the bow.
Fabric details
The high-quality, 100% resin-coated acrylic fabric SUNBRELLA® PLUS (360g/m²) is used for the sunroof. It has an anti-fungal coating, making it mold resistant and easy to maintain. Thanks to the resin-based coating, the canvas is waterproof and UV-resistant. The fabric complies with the ISO 4920 standard and is available in 17 different colours. This solution-dyed acrylic fabric features piqué effects and color references to best coordinate with your boat.
Joints and screws
AISI 316 stainless steel joints reinforced and stainless steel screws.
Max. speed
The maximum recommended speed when cruising and the bimini is set up is 30 knots.
Dimensions
The bimini top has a height (C) of 140 cm.
 
The length (B) is 230 cm. 


The width (A) depends on your width choice.
The dimensions of the mounting base is (C) 5 cm and (D) 27 cm.
Scope of delivery
Zippered storage bag (same colour like the bimini)
1 pair of straps
Roll bar
The starting point
The first measurement to take is the width between the right centre gunwale to the left centre one of the boat or, in case of an inflatable boat, the width between the right centre tubular to the centre left one.
From this size it can be evaluated which model of Bimini Top can be installed.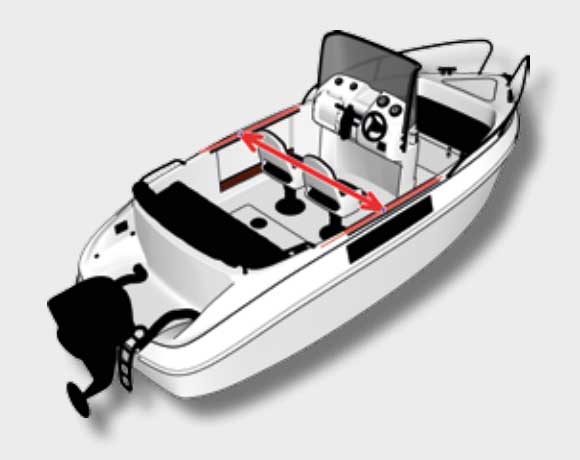 SUNBRELLA PLUS fabric datasheet
---