---
Bimini-Top SUPERIOR with roll bar BARCA
The Bimini Top SUPERIOR is practical to use and offers a very stable design. Thanks to the telescopic construction made of polished AISI316 stainless steel, it can be opened and closed simply by pressing the integrated spring pins.
This bimini is supplied including the roll bar "BARCA". The top has a large front section that provides plenty of shade. The roll bar can also be folded down at the bottom.
Front and rear canvases are joint by stainless steel Norwegian knobs positioned on the roll bar.
Note: The available sizes refer to the installation width, from the centre of the plate to the centre of the plate. The width of the arches at the top is about 25cm less than the base of the roll bar.
Bimini and roll bar frame details
The roll bar has a very robust frame (Ø 40 mm) made of highly polished stainless steel (AISI 316). The frame of the bimini top itself is made of telescopic stainless steel tubes (Ø 22/25 mm). The bimini has 2 front brackets. The roll bar itself can be folded down at the bottom.
Fabric details
The high-quality, 100% resin-coated acrylic fabric SUNBRELLA® PLUS (360g/m²) is used for the sunroof. It has an anti-fungal coating, making it mold resistant and easy to maintain. Thanks to the resin-based coating, the canvas is waterproof and UV-resistant. The fabric complies with the ISO 4920 standard and is available in 17 different colours. This solution-dyed acrylic fabric features piqué effects and color references to best coordinate with your boat.
Joints and screws
AISI 316 stainless steel joints reinforced and stainless steel screws.
Max. speed
The maximum recommended speed when cruising and the bimini is set up is 30 knots.
Dimensions
The height (D) is determined by the height of the roll bar. You can choose between the heights 120 cm, 130 cm and 150 cm.
 
The length (B) is 190 cm, the length (C) is 150 cm and the total length is 340 cm. 


The width (A) depends on your width choice.
The dimensions of the mounting base is (C) 5 cm and (D) 27 cm.
Scope of delivery
Zippered storage bag (same colour like the bimini)
2 pair of straps
Roll bar
The starting point
The first measurement to take is the width between the right centre gunwale to the left centre one of the boat or, in case of an inflatable boat, the width between the right centre tubular to the centre left one.
From this size it can be evaluated which model of Bimini Top can be installed.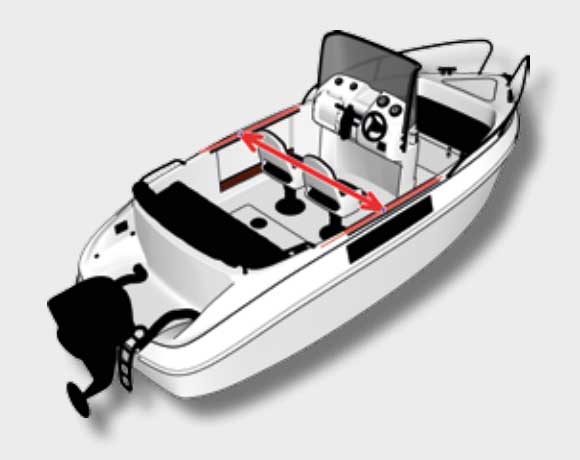 Installation guide for bimini top "SUPERIOR"
SUNBRELLA PLUS fabric datasheet
---