---
Bimini-Top ELEGANCE with 3 arches and Ø 20 mm aluminium frame
This bimini cover ist foldable, light and sturdy. It is recommended for small inflatable boats or rowing boats, as wells as for the use on railings and handrails.
Frame details
Foldable structure  (Ø 20 mm) with white lacquered aluminium-magnesium-silicon alloy.
Fabric details
The sunroof material is the AIRTEX® fabric from Mehler Texnologies, it is weatherproof and UV-resistant, antimicrobial, as well as dirt and water-repellent. The fabric complies with the UNI EN 24920 standard and is available in 14 different colours. This 200 g/m² light fabric is a 100% polyester fabric that is acrylate-coated and impregnated on one side. The special coating gives the material a distinctive textile character. With a total weight of only 200 g/sqm, this quality achieves a very good sun protection effect according to UV Standard 801.
Joints and screws
White nylon reinforced with fibreglass high mechanical and corrosion-resistant properties. Stainless steel and aluminium screws.
Max. speed
The maximum recommended speed when cruising and the bimini is set up is 15 knots.
Dimensions
The bimini top is available in two different heights (C) 115 cm or 140 cm:
 
The height (D) of the folded convertible is 145 cm if your height is 115 cm and 175 cm with a height of 140 cm. The Length (B) is always 200 cm.




When the bmini top is completely folded and Ready to store the dimensions are: width x 40cm (16") x 8cm(3")
Scope of delivery
Velcro closure storage bag (same Colour like the bimini)
2 row-lock attachment pins und 2 row-lock attachments
10 Metes rope and 4 tensioner plates made from stainless steel
The starting point
The first measurement to take is the width between the right centre gunwale to the left centre one of the boat or, in case of an inflatable boat, the width between the right centre tubular to the centre left one.
From this size it can be evaluated which model of Bimini Top can be installed.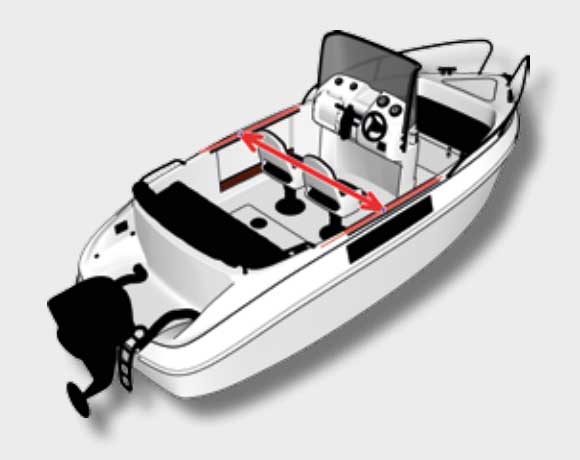 Installation guide for bimini top "Elegance"
---